At Home in "The Gateway to Angkor"
Where old world, French colonial charm meets today's happening new.
Surrounded by sacred, centuries-old trees and lush tropical flora, FCC Angkor sees 80 well-appointed, modern rooms with thoughtful Khmer touches—from artisanal textiles and handwoven rattan baskets to bespoke furnishings—two gleaming marble-tiled pools, a holistic spa and wellness centre, multi-functional meeting rooms and serene green views in this historic mansion oasis and annex in the heart of Siem Reap, where the perpetual scent of lemongrass plants (homegrown by staff from nearby Tekvel Village) wafts through the air.
Centrally located along Pokambor Avenue and the languid Siem Reap River, nestled between Streets 02 and 03, FCC Angkor has been deeply embedded in the local community since 2003, mere steps from the Royal Independence Gardens and Royal Residence, and within short walking distance to the town's Angkor Trade Centre and Central Market, a wide-range of culinary offerings and Pub Street, Siem Reap's main thoroughfare. Angkor Wat, the sprawling 12th century temple complex known as the "Temple City," is also ten minutes away—perfect for catching sunrise or sunset.
FCC Angkor is newly updated with design elements reflecting past and present, a warm inviting space inspired by its natural, jungle landscape laden with ruins and temples, the original intent of Gary Fell's tropical modernist aesthetic and its roots in French colonial history. Also housing The Mansion, a new restaurant concept and bar, this iconic institution serves locally-sourced, sustainable ingredients, reimagining time-tested comfort cuisine with a French twist, and bold, regional offerings with handcrafted cocktails and artisanal beers.
No matter where one enters, whether from the riverside, with the open grassy lawn and The Mansion straight ahead, or through the arrival sala on Street 03, immersed with cherry-picked palms, this remains an inviting and atmospheric gathering place accessible to all, transporting guests away from the stresses of everyday life. The main building continues with luxurious suites, spa rooms, a fully equipped gym, intimate nooks and terraces, spacious, communal lounges and ground floor's Scribe, an innovative Khmer grill with tapas and a full bar.
Also on-site are two swimming pools and FCC Angkor's Pool Restaurant & Bar, an essential stopover for temple trekkers and sun seekers looking for a quick bite, or a hideaway to spend lazing the afternoon away. Connected to The Mansion by a charming pedestrian bridge is FCC Angkor's annexed addition, a continuation of the property's elegant design, combined with a decidedly contemporary edge.
#FCCStoriesShared #FCCCollection #FCCAngkor #FCCPhnomPenh
COVID-19 Update: A Message to our Guests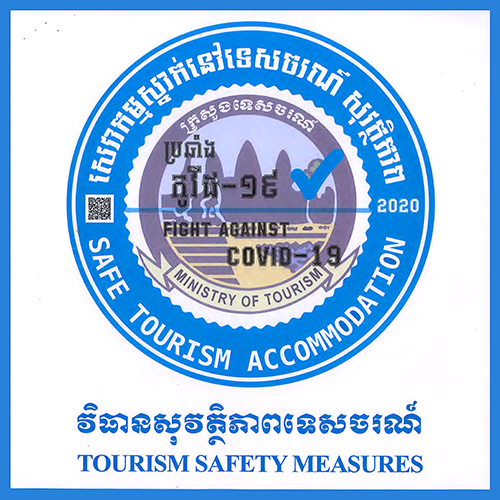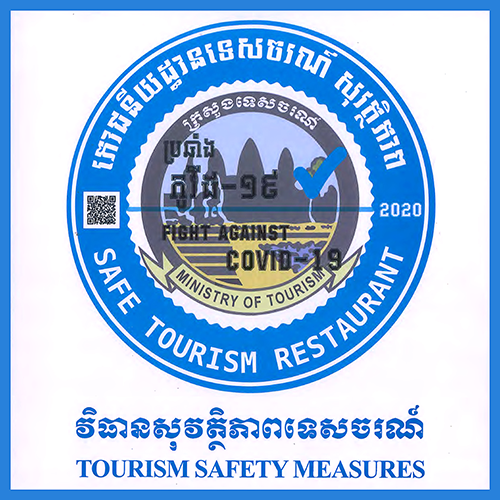 Introducing AvaniSHIELD Safety & Hygiene Programme for Safe Travel
As we prepare to welcome you back, we are introducing new health and safety standards at FCC Angkor. Named AvaniSHIELD, these series of initiatives will bring peace of mind to you and our staff by adding an additional layer of protection for everyone.
We would like to share with you the heightened hygiene and sanitation we have introduced to ensure the protection of your health and safety.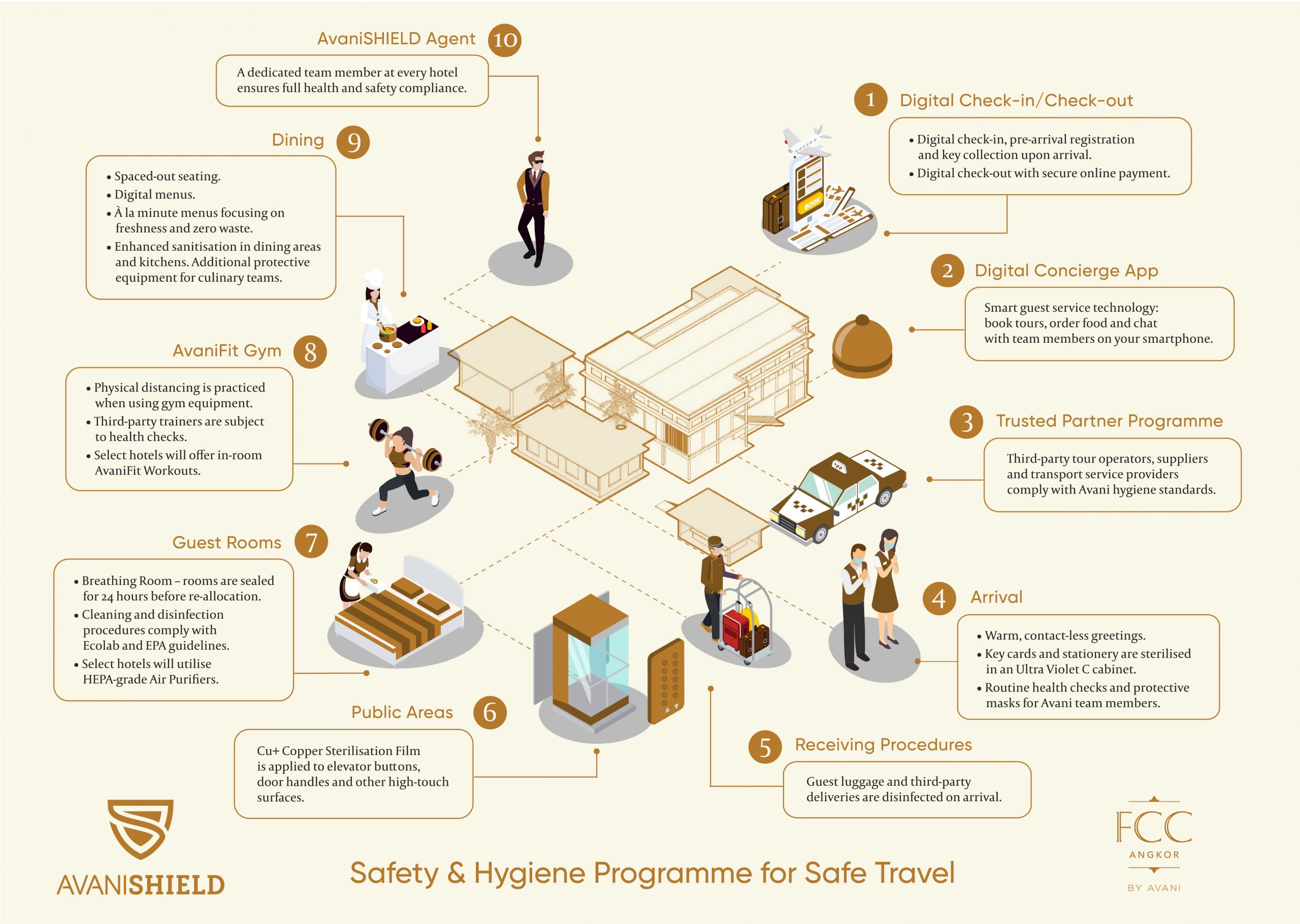 Touchless Service
Contactless Greetings – To ensure physical distancing, Avani team members will rely on country-specific hand gestures, such as the traditional Thai wai greeting; Korean jeol bowing; the hand-over-heart gesture, and even the Vulcan salute popularised by Star Trek.
Digital Pre-arrival Check-in & Check-out – After filling out registration cards on your mobile device on the way to the hotel, you will find your room key waiting at reception. Prior to check-out, you will be able to settle your bill via a secure online payment system and receive the receipt via email – a secure and environmentally friendly solution.
Digital Concierge App – A live chat solution enabling direct contact with our guest service team will be launching soon. It will allow you to browse menus, order in-room dining and book off-property experiences.
Safety & Hygiene Technology
Cu+ Copper Protection Materials – High-touch surfaces such as door handles and elevator buttons will be covered with anti-microbial copper protection film.
Ultra Violet C Sterilisation – Front Office will use UVC sterilisation boxes to disinfect key cards, stationery and other high-touch objects. You can also request a complimentary disinfecting service for your mobile device.
HEPA-grade Bio Filter – Select Avani properties will be adding HEPA-grade Air Purifiers as an extra step in the standard guest room and gym cleaning process. These can remove airborne viruses, bacteria and allergens of 0.01 micron (10 nanometres) in size with 99.99% effectiveness.
Disinfecting Incoming Objects – All hotels will set up disinfecting processes to sanitise incoming luggage, boxes and supplies.